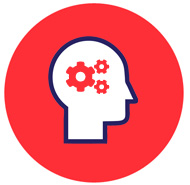 Something to Consider
We are in the thick of summer! And let me tell you, summer 2021 has been way better than summer 2020. (It's a low bar.)
The warmer weather (and mass vaccinations) has made it a little easier for us to visit, hug and see people, in person. What a joy to reconnect with loved ones. (I might have hugged my computer once or twice, talking to my mom on Zoom last year. But please don't tell anyone!)
This particular summer is also an ideal time to take it easy. On yourself.
We've all been through so much, but for many, my business partner included, the (gradual) return of in person meetings and business re-openings in general, have been his mandate to hit the work even harder; to reconnect and rebuild. He leans into the work to find more inspiration while I opt to step away, since it helps me find clarity.
Neither approach is incorrect.
As defined by Merriam-Webster, to renew is to 'make like new: restore to freshness, vigor, or perfection.' I don't know about perfection, since that is an impossible standard, but I couldn't think of a better time than right now to 'restore to freshness' by creating time for the things that keep me moving forward.
But how can we do that, in times like these?
We have our go-to list of activities, whenever we feel the need to recharge and generate inspiration. But we don't limit this to just the summer months, this is a year-round thing.
Here are a few of our go-to tips that we use to stay on point, fresh and ready for business. They have helped us, especially in the last year or so, and we hope that they help you too.
However it is that you are coping through all this, I hope that it's positive and productive.
Let's use the summer, as an opportunity to recharge and prepare for a tremendous fall and beyond. And please, tell me. What are your tips and tricks to stay balanced and productive? I want to know!
With love,
Ada
Bounce Marketing & Consulting
p.s. Thank you for your readership! Would you share this edition of Bounce Ahead with someone who would enjoy it?
p.s.s. If you're getting this email from a friend - welcome! We hope you enjoy it. And to get more, please subscribe to our list here.
---